Bitcoin and Ethereum Price Predictions
Our Bitcoin price predictions for 2022 and the years ahead can be found below. We have also outlined our price predictions for Ethereum. These price forecasts or price targets represent our best-educated estimates based on the data and models that we have analyzed.
Bitcoin and other cryptocurrencies have been the best investment of our generation. Investing early in cryptocurrency has minted a significant number of new multi-millionaires in the past five years. But Bitcoin is still in the early innings and there is plenty of upside ahead in our view.
At Nicoya Research, we first recommended buying cryptocurrency to our subscribers when the price was just $100 and Ethereum when the price was under $10. We also generated incredible returns investing in select altcoins and taking our profits off the table following huge price advances. 
Can the Bitcoin Price Continue Higher?
All key data points are suggesting that adoption is increasing rapidly. In every year other than one, 2015, Bitcoin has made a higher low. The market capitalization has grown every year. Institutional investors are now buying.
Every fundamental indicator of Bitcoin: usage, wallets, block size, transaction size, number of transactions, hash rate, are all rising and making new highs. All indicators of the network value are rising.
With a strictly limited supply of 21 million and rapidly growing demand, the price has the potential to climb much higher. If just 10% of the investing public were to buy bitcoin, there would be a massive inflow of funds and new demand to push prices to new highs.
Here at Nicoya Research, our Bitcoin price predictions are not quite that aggressive but still represent significant gains over the next several years.
Bitcoin Price Prediction / Forecast
2022 Bitcoin Price Prediction: $45,000
2023 Bitcoin Price Prediction: $100,000
2024 Bitcoin Price Prediction: $300,000
2025 Bitcoin Price Prediction: $600,000
Ethereum Price Prediction / Forecast
2022 Ethereum Price Prediction: $3,000
2023 Ethereum Price Prediction: $5,000
2024 Ethereum Price Prediction: $20,000
2025 Ethereum Price Prediction: $50,000
We don't have a crystal ball and these are just our best estimates of the future prices of Bitcoin and Ethereum based on due diligence and research. But it gives some indication of just how high prices could climb in the years ahead and the potential returns for investors willing to take the risk on this emerging asset class.
If you want to follow which cryptocurrencies we currently hold in our portfolio, plus receive our monthly newsletter and weekly trade alerts, you can subscribe to our top-rated cryptocurrency newsletter by clicking here or the image below.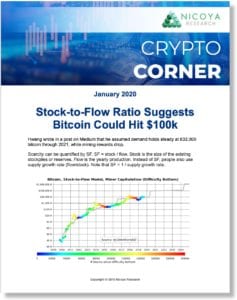 As part of your subscription, you will also receive our Guide to Investing in Cryptocurrency. This is the perfect guide for beginners and covers how to buy crypto, how to store it safely and common pitfalls to avoid.